Christchurch Singers
See below for Weekly
"Round Robin" for the choir members

We are an ecumenical choir some 40 strong drawn from churches across Bexhill and St Leonards. We generally tend to sing in four part harmony, and enjoy each other's company week by week. There is no audition, just an ability to sing in tune and to come regularly. Sight reading is helpful but by no means obligatory!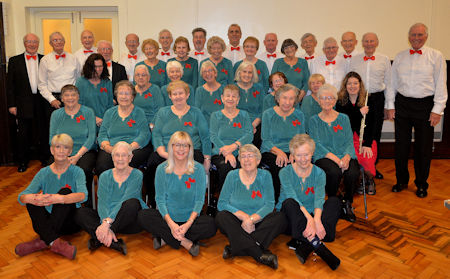 Why not come and sing with us? Chris Cox, the secretary would be pleased to tell you more. Phone 01424 220524, email chriscox60@hotmail.com Rehearsals are from 7.15pm – 8.30pm every Thursday evening at Christchurch.
---
Hello everyone!
It's a packed email this week, with poems from both John and Irene, plus an article from Elizabeth, the answers to the hymn quiz, a musical quiz link (sorry to those unable to open links} from Christchurch minister, Tricia, an idea for making an aid to prayer, and our service for the week. Irene's poem was printed in the Daily Mail - fame at last!!
One more week on the road to normality, and suddenly the trees have dressed themselves, and the grass is scattered with nature's gems - buttercups and daisies. Remember the old hymn Daisies are our silver, buttercups our gold?
Do let me have any items you think other members of the choir would be interested in.
God bless
Chris
10/05/2020
God's Masterpiece.
÷÷÷÷÷÷÷÷÷÷÷÷÷÷÷÷
Ephesians 2 vv 10, 22.
÷÷÷÷÷÷÷÷÷÷÷÷÷÷÷÷÷÷
It's humbling now to recognise
we are God's work of art,
And each and every one of us
play a special part;
In God's eyes we are equal
His workmanship that's true,
And we can be a blessing
through what we say and do;
Each of us are quite unique
indeed a masterpiece,
Using our gifts and talents
to help His work increase;
We each are of great value
to help His Kingdom come,
Following in the footsteps
of Christ God's only Son;
Never underestimate
what you yourself can do,
When He makes His dwelling
place
both in me and you;
For it is by His Spirit
that His purpose we fulfil,
Knowing His real presence
when we're willing to be still.
John B. Knight.
Thank you again for your regular weekly email. The interesting thing about your Order of Service, is that, along with a number of others this week, including on radio and television, yours is based on Psalm 23.
This got me thinking of the various musical arrangements of this Psalm, The Lord's my Shepherd. I can think of 6 arrangements I've used in the past:
For general congregational singing:
1 To the tune 'Wiltshire'
2 To the tune 'Crimond'
3 To the modern version by Stuart Townend
For Choirs
4 Brother James' Air (Scottish tune)
5 Arrangement by Leslie Sturdy (Emmanuel Songs Book 2, page 66)
6 Howard Goodall - Vicar of Dibley signature tune
I wonder if any of the Choir know of any other arrangements?
For a music quiz with a difference, here are 26 songs played on the piano one tune for each letter of the alphabet starting with A. Answers next week https://youtu.be/ZkkpAH-UPSk
The "Peace" of the puzzle
By Irene Stovell
I bought a puzzle years ago-
But where is it's location?
It was a present for a friend,
That never reached its destination.
Beneath the stairs with torch and gloves,
I fought the dust and muddle,
And there at last, beneath the mess,
I found the long lost puzzle.
"I found it"! jubilant I cried,
But himself was not impressed.
"Well, this will keep us both amused,
It's all the rage I stressed".
With mocking sniff and nose in air,
He turned his face away.
"Have your childish pastime then,
But don't expect ME to play".
For days I struggled on my own,
At first it wasn't fun.
But then at last, I heaved a sign,
With the edges finally done.
A coffee break was overdue
And from the kitchen door,
I glimpsed him deftly take a peak,
Then scuffle back across the floor.
Aha! - I thought, he's curious, I'll play him at this game,
And coming back I shook my head,
"These edges aren't the same".
Off I went to 'do some chores',
And found my instinct right.
When I returned, the scene had grown,
Just as I thought it might.
A corner of the puzzle now boldly sat complete,
In mock surprise, I feigned delight,
But hardly dared to speak.
Across the week the tempers rose,
With silence interspersed.
As isolation held its grip,
And worries far, far worse.
I ached to do some useful thing,
To help the situation,
But staying home and safe and well,
Was now our occupation.
That bit's not right, the colour's wrong,
You've got it upside down,
Can't you see it doesn't match,
The blue's beside the brown.
Another minor spat ensues
The silence has been broken.
But still, it's progress, in a way,
It's three days since we've spoken.
And so the puzzle, bless it's heart,
Became our major task.
How much time we lingered there,
I didn't dare to ask.
It's challenging, frustrating, with a thousand tiny bits,
But oh! The unexpected joy,
When you find a piece that fits!
It's 18 days since we began,
We've very nearly won,
But I'm really getting anxious now,
What happens when it's done!?
Sadness falls...... it's finally done,
But I'm sure I'll soon recover.
How will we fill the next few weeks?
Can anyone lend me another?
The answers to the last of the hymn and worship song quiz
26. WISTWC – When I survey the Wondrous Cross
27. IIGOW – Immortal, Invisible God only wise
28. TDTGLIE – The day though gavest Lord is ended.
29. OFATTTS – o for a thousand tongues to sing
30. BS – Be still
31. AG – Amazing Grace
32. PMH – Purify my Heart
33. WWTSJLH – We want to see Jesus lifted High
34. LOTW – Light of the World
35. KOKM – King of Kings, Majesty
36. BTMV – Be thou my Vision
37. CNITTTW – Come now is the time to Worship
38. JTNHOA – Jesus the name high over all
39. RTLIK – Rejoice the Lord is King
40. HDTFLFU – How deep the Fathers love for us.
41. SWAM – See what a morning
42. CPOTRK – Come people of the risen King
43. OPTN – O Praise the name
44. SOL – Speak O Lord
45. WPTFAS – We plough the fields and scatter
46. TBTG – Thine be the Glory
47. HTCOTK – Hear the call of the Kingdom
48. YATKOG – You are the King of Glory
49. IIWWMS – It is well with my soul
50. GITF – Great is thy faithfulness
Would anyone fancy knitting a fish?
The fish has long been a symbol of Christian identity, hope and salvation.
At time like these, perhaps it is good to hold on to our Christian identity, hope and salvation! Literally! With the fish we create, we can hold them in our hands and we can hold what they represent symbolically in our hearts and minds.
First find some brightly coloured yarn and a pair of knitting needles. 3mm needles are ideal, but it will work with any needles.
Starting at the tail end, cast on twelve stitches. If you want a wider tail cast on more stitches in multiples of two. (Hazel has knitted a couple and found it better to make it a bit wider)
1.) Knit in stocking stitch (1 row plain, 1 row purl). Decrease one stitch as each end of the plain rows only, until you have 6 stitches left.
2.) Knit three rows in stocking stitch without decreasing.
3.) If you want to change colours, now might be a good time.
4.) Increase one stitch at each end of every plain row until you have 24 stitches on the needle.
5.) Now decrease one stitch at each end of every plain row until 2 stitches remain. Knit these two stitches together and bind off.
You need two pieces to make a fish. Sew them together (inside out) but leave the tail end open. Now turn them right side out and stuff – how much stuffing you use depends on how fat you want your fish to be! Sew up the tail.
Feel free to add patterns or fins if you want!
Sunday 10th May 2020
Opening Prayer
Jesus said 'I am the way'. He is the light that shines on us and through us. We come to seek the way that we may receive new life and serve in all that we are.
Alleluia! Christ is risen!
He is risen indeed! Alleluia!
Collect for the Day (from the Methodist Worship Book (MWB))
Loving and eternal God, through the resurrection of your Son, help us to face the future with courage and assurance, knowing that nothing in life or death can ever part us from your love for us in Jesus Christ our Saviour; who is alive and reigns with you, in the unity of the Holy Spirit, one God, now and for ever
Amen
Hymn: Jesus, the Lord said: "I am the Bread"
Singing the Faith 252
Sing/ Read / pray / proclaim the words or listen to it here
https://www.youtube.com/watch?v=yVy_9uVJLbk
Jesus the Lord said:'I am the Bread,
the Bread of Life for the world am I.
The Bread of Life for the world am I,
the Bread of Life for the world am I.'
Jesus the Lord said:'I am the Bread,
the Bread of Life for the world am I.'
Jesus the Lord said:'I am the Vine,
the true and fruitful Vine am I.
The true and fruitful Vine am I,
the true and fruitful Vine am I.'
Jesus the Lord said:'I am the Vine,
the true and fruitful Vine am I.'
Jesus the Lord said:'I am the Way,
the true and living Way am I.
The true and living Way am I,
the true and living Way am I.'
Jesus the Lord said:'I am the Way,
the true and living Way am I.'
Jesus the Lord said:'I am the Light,
the one true Light of the world am I.
The one true Light of the world am I,
the one true Light of the world am I.'
Jesus the Lord said:'I am the Light,
the one true Light of the world am I.'
Jesus the Lord said:'I am the Life,
the Resurrection and the Life am I.
The Resurrection and the Life am I,
the Resurrection and the Life am I.'
Jesus the Lord said:'I am the Life,
the Resurrection and the Life am I.'
Let us pray together
Wondrous God
We are blessed that we can come together to praise you despite the restrictions and difficulties in our lives.
We come together to worship you and give you thanks. We celebrate our life together as your people.
In a moment of silence we share with you the things we want to give praise and thanks for today.
Moment of silence
Thank you for this delicate but awe-inspiring world we live in; for the opportunities in the world to respond to your call.
Thank you for a world which is full of diversity, where there are many opportunities to worship you and to serve you and those we meet in different ways.
Help us not to use their differences as excuses to build walls that divide. Help us to see each difference as a rainbow of hope and as a pattern where each colour is linked and bound together by your unending love.
Forgive us, loving God, when we do not accept the diversity of the world; when we forget that we are all your people, loved equally and known to you by name.
Forgive us for our foolishness and our thoughtless use of the gifts of your creation,
Lord, have mercy.
Lord, have mercy.
For our neglect of you, and our failure to care for others,
Christ, have mercy.
Christ, have mercy.
For our selfishness in prayer and our carelessness in worship,
Lord, have mercy.
Lord, have mercy.
Moment of silence
Here is good news for all who put their trust in Christ. Jesus says: 'Your sins are forgiven.'
Amen. Thanks be to God
(Words of confession from the MWB)
Today's Gospel Reading: 1 Peter 2: 2-10
Come to him, a living stone, though rejected by mortals yet chosen and precious in God's sight, and like living stones, let yourselves be built into a spiritual house....
…you are a chosen race, a royal priesthood, a holy nation, God's own people, in order that you may proclaim the mighty acts of him who called you out of darkness into his marvellous light.
Time to Reflect
When you read this passage what words drew you?
For me it was the image of the builder using the material that others would have overlooked.
Have you ever seen the "free to use" pile at Ikea or the bargain basement section? I often look at it and think "what can anyone do with that?". It's warped, it's split, it's chipped, and it's of no use. The "free to use" pile is often overlooked as we tend to want the perfect boxed version of what lies there. Who in their right mind would ever use "rejected" materials to build a house? You just don't do that - you don't start with a bad foundation because you know it won't last.
Do you find it strange that Jesus builds in a way that's poles apart from what is expected?
He uses the warped boards, the chipped sheets of wood, the lame sticks, the stuff that everyone else is looking past and in many cases tosses aside. It's almost like he rejoices in using materials that everyone else would "reject". It's almost like he's loading up his trolley with all the crooked, broken, and warped wood that he can and he's strutting around with it saying, 'look at me' and what I can use – do you want to question my decision making.
"How are you going to build a house with that??"
"Are you blind? That wood is warped, you'll never get it past building control!",
"There is a huge pile of perfectly good material over there, use that."
You can almost hear Jesus' voice, "No, I'm going to build my house. And nothing is going to stop me."... "These crooked, warped, broken pieces of wood are perfect and they're all mine." And off he goes, building the Church: one broken stick at a time; one chipped board; one piece of 2 by 4 that is too short and needs to be joined to another plank of 2 by 4. And believe me, in Christ we don't have to worry about the building inspector; in Him we are loved and welcomed. In His grace and with the gifts he gives us we can build His church, we can reach out to others and share His love and forgiveness. His welcome to all no matter how broken they may be.
How will you use the gifts God gives us to reach out to others and to build his Church?
Take a time to sit quietly
A time of prayer
God our Saviour,
We pray for those who feel hopeless that they may hear your good news and be freed from their anguish.
Silence
We pray for those who have had their expectation of hope torn away, for those who feel discarded and deceived.
Silence
We pray that the Church will stand together with those who are suffering, working for acceptance and peace.
Silence
We pray for those who are beginning to hope, those who dare to dream of a better tomorrow.
Silence
We pray for all affected during this Covid-19 pandemic. We pray for those who are poor, sick, homeless, lonely, imprisoned, weighed down and powerless.
Silence
May your love reach them and may we all stand together. May your Church reach out to those in need, so that all may come to give thanks to you, and celebrate together.
Amen
The Lord's Prayer
Our Father ……
Hymn: The Church's one foundation
Singing the Faith 690
Sing / Read / pray / or listen to it here
https://www.youtube.com/watch?v=jotNbcFelX4
The Church's one foundation
is Jesus Christ her Lord;
she is his new creation
by water and the word;
from heaven he came and sought her
to be his holy bride;
with his own blood he bought her,
and for her life he died.
Called out from every nation,
yet one through all the earth,
her charter of salvation
one Lord, one faith, one birth;
one holy name she blesses,
and shares one holy food,
as to one hope she presses
with every grace endued.
In toil and tribulation,
and tumult of her war,
she waits the consummation
of peace for evermore;
till with the vision glorious
her longing eyes are blest,
at last the Church victorious
shall be the Church at rest.
Yet she on earth has union
with God the Three in One,
and mystic, sweet communion
with those whose rest is won.
O happy ones and holy!
Lord, give us grace that we,
with them, the meek and lowly,
in heaven your face shall see.
Samuel John Stone (1832-1900)
A prayer of blessing (from the (MWB)
God the Father, by whose glory Christ was raised from the dead, strengthen us to walk with him in his risen life; and may almighty God bless us, the Father, the Son and the Holy Spirit.
Amen
Original Materials (unless referenced) by Cathie Steele, Vale of Glamorgan Methodist Circuit